This is the definitive Web Design Pro review for 2023.
I share my own insights after having been a student of Flux Academy for 3 years.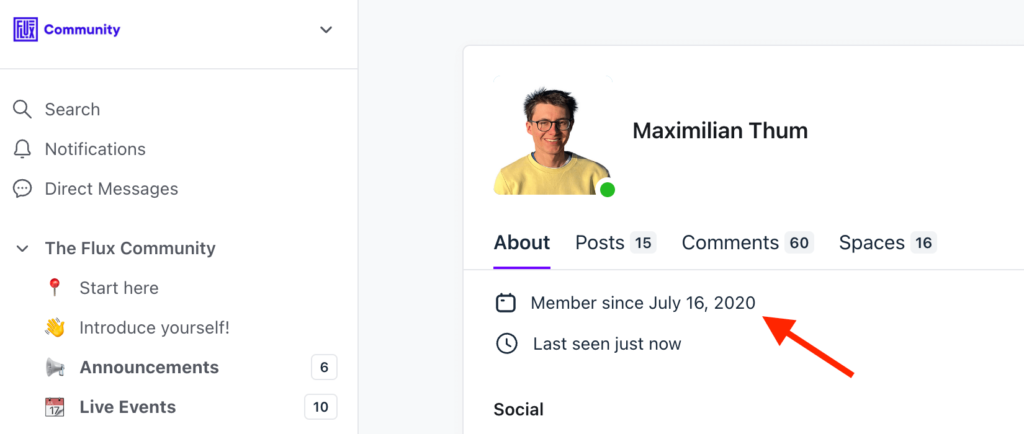 If you want to know:
What exactly Web Design Pro teaches

What the pros and cons are

How Web Design Pro is different from other courses

How long it will take you to get results
Then, I have got you covered. Let us begin.
At A Glance
Review: Is Web Design Pro Worth It?
If you're a web designer looking to improve your skills, Ran Segall's Web Design Pro is worth the extra cost. It's the perfect course for taking your designs to the next level. And if you're still unsure, the additional discount should help you make up your mind.
Pros
Practical and relevant lessons with no fluff

First-rate mentoring from experts

Certification upon course completion
Cons
Pricier than other online web design courses
$695 regular price, $595 with discount (30-days no-questions-asked refund policy).
Get The $100 Discount
About Web Design Pro
Web Design Pro is one of the most comprehensive web design courses available online. It promises to teach you the skills and processes to become a professional web designer in the shortest time possible.
You can complete the course at your own pace and have access to the Flux community of experts and professional web designers for 12 months.
The course includes high-quality videos covering every aspect of becoming a web design professional, from user experience to client collaboration. Plus, the comprehensive resources and exercises will save you years of trial and error by simplifying the process and fast-tracking your progress.
You will learn how to have the confidence to walk your clients through a strategic process, understand their business problems, and show them how websites can solve those problems.
By the end of the course, you can even get a certification.
Whether you're just getting started or want to take your craft to the next level, Web Design Pro is for you.
About Ran Segall
Ran Segall, founder of Flux Academy, has over 20 years of web design experience working with startups, small businesses, and non-profit organizations. His YouTube channel, Flux, has around half a million subscribers and is one of the most popular among web designers.
If you enjoy design-related topics on the platform, chances are you've seen one of his thousands of videos.
Web Design Pro is one of six web design courses of Flux Academy. I have published reviews of all six of them: Webflow Masterclass review, Standout Portfolio in 7 Days review, 6 Figure Freelance Designer review, Core Design Skills review, and Brand Design Mastery review.
Web Design Pro
An impressive web design course that helps you earn more money by guaranteeing professional results.
Web Design Pro Pricing, Discounts & Coupons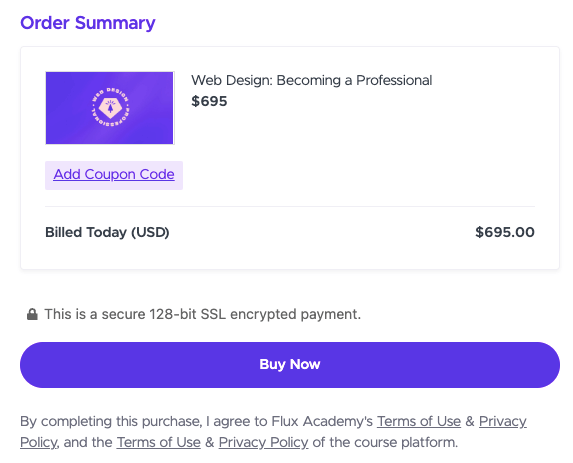 You can purchase the Web Design Pro course for a one-time payment of $695 and get lifetime access to the course and all future updates. If you prefer to pay in installments, there's a three-month payment plan of $278 available.
Choosing the full-payment option can save you even more, at $139 in total. And if you're not satisfied with the course, Flux Academy offers a no-questions-asked, 30-day money-back guarantee.
You can pay for the course via PayPal or Stripe and will receive an email receipt shortly after your purchase.
Keep an eye out for occasional coupons, like the current $100 discount, which can significantly lower the course price from $695 to $595.
Course Structure
Web Design Pro is a comprehensive course that will teach you how to design a website and create a new portfolio. With a structured, all-in-one system, the course includes six modules that cover relevant design principles to elevate your work.
Since it's a self-paced course, you can learn at your own speed, and the video modules and materials are yours forever. Just note that the Flux expert support is limited to 12 months.
Chapter 1: Welcome
Course overview and how to make the best of it (6:02)
Course projects & certification
The first part of the course is solely focused on getting you started.
Ran will guide you through the course, explaining how to get the most out of it and how to become a part of the Flux Academy community.
Additionally, he will outline the course projects you need to complete and any other requirements needed to earn the certification.
Chapter 2: The Web Design Process
Process Overview (5:45)
Step 1: Discovery (6:22)
Step 2: Closing The Deal (12:12)
Step 3: Strategy (8:26)
Step 3.1: Research (5:35)
Step 3.2: Content Strategy & Information Architecture (6:40)
Step 3.3: Art Direction (6:42)
Step 4: Wire-framing (9:09)
Step 5: Visual Design (3:56)
Step 6: Development (3:44)
Step 7: Going Live, Hand Over & Wrapping Up
In this chapter, you'll learn about the web design process. Ran will guide you through each step of designing a website, from talking to clients about their preferences to launching the site.
You'll also discover effective strategies, research methods, and the importance of developing art direction. This chapter also covers wireframing and visual design.
Web Design Pro
An impressive web design course that helps you earn more money by guaranteeing professional results.
Chapter 3: Honing Your Web Design Skills
Key Concepts in Design (26:45)
Hierarchy (5:20)
Color (6:26)
Type (5:13)
Layout (1:32)
Visuals (3:51)
Storytelling (5:13)
Design Language (5:13)
Motion & Animation (5:13)
Image Making (5:13)
Behavioural Psychology (5:13)
Usability, Accessibility & Inclusion
In this chapter, Ran will teach you how to master design concepts such as color and layout.
You'll also learn how psychology affects web design and how it can influence consumer behavior, leading to a better return on investment.
Chapter 4: Project and Client Management
Setting The Right Expectations (7:07)
Managing The Project (5:38)
Getting Feedback (9:47)
Managing Multiple Projects At Once
Managing a web design project is crucial for its success. It involves planning, coordination, and organization to achieve goals and outcomes efficiently.
In this chapter, Ran will teach you valuable skills such as setting achievable expectations, handling feedback, and multitasking effectively. These skills will help you manage your web design projects more efficiently.
Chapter 5: Building Your Portfolio
In this chapter, Ran will teach you how to create an outstanding portfolio. Having an impressive portfolio is essential for web designers to showcase their skills and attract potential clients. A well-crafted portfolio will demonstrate your abilities and make it easier for people to contact you.
In addition, you can discuss any issues you have or your progress during the weekly live office hours with Ran and other Flux Academy experts. This is a great opportunity to connect with your fellow students and get answers to your questions.
Chapter 6: Final Thoughts
Getting Your Certification (12:55)
What's Next?
In the final part of the Web Design Pro course, you will learn how to obtain your certification. You will submit your web design project for review and receive feedback from the Flux team.
Ran will also provide valuable insights on how to create exceptional websites and enhance your career as a web designer.
Web Design Pro
An impressive web design course that helps you earn more money by guaranteeing professional results.
Who Is Web Design Pro Best For?
Looking to create exceptional designs and sell your services to clients? The Web Design Pro course is perfect for you!
It's great for anyone who wants to improve their web design skills and receive training in web development.
Who Shouldn't Take Web Design Pro?
Before taking this course, Ran recommends having designed at least one website. If you have no experience building websites or have only worked with graphics, it's best to start with Flux Academy's free web design course.
It's important to note that the Web Design Pro course doesn't go into depth on design implementation. So if you're more interested in development, this may not be the best course for you.
How Is Web Design Pro Different?
Ran's Web Design Pro course offers a structured curriculum that guides you through the process of becoming a professional web designer. It's not just a collection of video lessons; it's a step-by-step approach that covers all aspects of the design process.
While a bit pricey, you will definitely get your money's worth.
In addition, you'll join a community of fellow designers and receive feedback from a team of experts, expanding your network and creating opportunities for the future.
However, if you're a novice web designer, this course may be too advanced for you. In that case, you should consider starting with Flux Academy's free web design course.
Web Design Pro
An impressive web design course that helps you earn more money by guaranteeing professional results.
How Long Will It Take To See Results?
The Web Design Pro is a flexible self-paced course that you can complete at your own pace.
You will see progress as you work through the video lessons.
Plus, you'll receive valuable feedback from the Flux Academy coaches, and participate in live monitoring sessions and peer reviews to improve your skills.
Web Design Pro
An impressive web design course that helps you earn more money by guaranteeing professional results.