Note: You can click here to get an overview of what's included in Learn Plan Profit 2.0, or read my full in-depth review of the course below. If you decide to buy the course you can use this link to get $150 off on Learn Plan Profit 2.0.
In November of 2021, Ricky Gutierrez released an updated version of his best-selling course. But is Learn Plan Profit 2.0 really worth the money in 2023?
In this article, I'll explain what you have to know before purchasing Learn Plan Profit 2.0 and why I find the course to be worth every penny.
At A Glance: Learn Plan Profit Review
Review: Is Learn Plan Profit Worth It?
All in all the course is well worth it at $399 for all beginner traders. Ricky does a good job in explaining the basics of day trading beginner-friendly and giving actionable advice, enabling beginners to quickly take action. If you're a beginner with a small account this is a good starting point.
Pros
Easy to follow

Actionable adive

Great for beginners
$499 regular price, $349 with a discount (no refunds)
Get The $150 Discount
What Is Learn Plan Profit 2.0?
Learn Plan Profit 2.0 is a day and swing trading course by Ricky Gutierrez.
According to Ricky, it's a "step by step A-Z video lesson library created to teach beginner traders how to day trade successfully".
If you join Learn Plan Profit 2.0 you gain access to over 70 video tutorials, Ricky's private trading group, and exclusive daily live trading sessions.
Learn Plan Profit was first released in 2017 and quickly became one of the most popular trading courses. Until today more than 3000 members joined Learn Plan Profit. In November of 2021 Ricky Gutierrez released an updated version of Learn Plan Profit called Learn Plan Profit 2.0.
The original version of Learn Plan Profit had five chapters and featured 32 videos, varying in length from just a few minutes to 2-hour plus recordings.
Who Is Ricky Gutierrez?
Ricky Gutierrez is a 26-year-old day and swing trader from Gilbert, Arizona. He first gained popularity from his personal youtube channel where he uploads videos of himself day-trading, flipping cars, and buying real estate.
Ricky claims to be the "youngest millionaire in Gilbert, AZ" with his net worth estimated at roughly 3.5 Million Dollars.
While he's engaged in various businesses like flipping cars and buying real estate his main business is trading.
One of his critic's most famous arguments is that he makes most of his money by selling his course. Truth is, that his course reportedly made him more than 1 Million Us dollars in revenue, likely more than he made from trading to this point.
However, Ricky has been around since 2015 on youtube and shows his trades regularly.
Even though he isn't making anywhere near the $50000-$100000 Us Dollars a day like other traders on youtube he is making a constant profit, which most traders are not able to do.
Today we will review his most popular course, Learn Plan Profit 2.0.
Learn Plan Profit Pricing and Coupons
Learn Plan Profit can be purchased at a one-time fee of $499, this grants you lifetime access and includes all future updates of the course.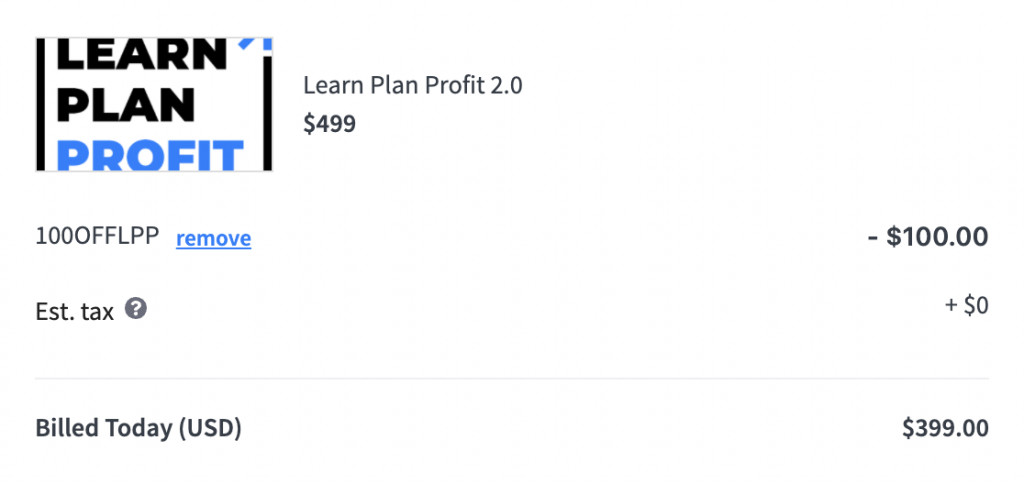 Compared to other trading courses this is on the low-end, especially considering you get access to his private group chat and his daily live streams. Many other traders, like Humbled Trader, either charge a monthly subscription fee or sell their course for $1000+.
Also different from most other traders Ricky doesn't have any up-sells, so this isn't a "foot in the door" pricing technique. The course at $499 seems to be priced quite low, compared to other trading courses, especially if you can get a further discount on it.
Currently, Ricky offers a $150 discount.
Learn Plan Profit 2.0 Curriculum
Learn Plan Profit will teach you how to get started with day and swing trading.
The course has 12 chapters (plus one bonus chapter) and starts with some basic beginner lessons and foundational principles before moving on to more complex lessons.
The video lessons vary in length from less than a minute to 13 minute long recordings, the average video is about 4 minutes long.
Once you sign up to Learn Plan Profit 2.0 you will see this screen. It gives you an overview of all videos and shows you your progress.
Chapter 1: Welcome
Ricky gives you an introduction to his course, he explains how to gain access to the private chat group and how to get the most out of it.
Chapter 2: Brokerage
Ricky's trading platform of choice is Webull. He starts out by explaining how to open a Webull account. While opening the account is fairly simple setting up an account in the correct way is hard. You have a lot of options and settings to choose from so if you're not 100% familiar with all technical terms of trading the setup can get very confusing.
This chapter can be very helpful for beginners as at the beginning it's probably most useful to use Ricky's broker and the same setup so you can follow him easier.
He explains how to use Webull best and why you should use it, he then goes on to show his setup and his settings, as well as his hotkeys.
Chapter 3: Basics of Trading
Chapter 3 features 19 videos and is meant as an introduction to the basics of trading. Ricky starts out by explaining what stocks are, how much money you should start with and what paper money is.
Each video in this chapter is dedicated to one term like PDT or IPO. Before you start investing real money into the stock market you should know what all these terms mean.
Each video is only a few minutes long making the videos perfect for beginners to quickly understand and learn all basic terms of trading.
While this is mainly targeted at beginner traders I still found these videos to be very helpful as you can revisit all the basic terms of trading in one chapter.
Chapter 4: Indicators + Patterns
In chapter 4 he talks about patterns, indicators, and how to use them. If you have watched Ricky's YouTube videos before you will have noticed that he often talks about indicators like VWAP, SMA, and many more. These indicators can be very hard to understand at the beginning but are key to understand if you want to trade the same way Ricky does.
Ricky is mostly a technical trader meaning that he doesn't wait for news to influence a stock before trading it.
Instead, he looks at indicators and bases his decisions on whether to buy or sell a stock on technical indicators.
On YouTube, it can get very confusing trying to understand these indicators as the videos aren't structured and ordered as well as they're in this course.
Chapter 5: Order Types
In chapter 5 he explains how to set different order types, like a stop loss.
In each video, he first explains the term, then shows you a real-life example, and lastly explains why and when you should use this order type.
Chapter 6-9
Chapters 6 to 9 are all set up in the exact same way and each feature 3 videos. In the first video of each chapter Ricky explains the technical term, in the second video, he explains how to identify it and in the third video, he gives three real-life examples.
The sixth chapter is all about swing trading. While Ricky is a day trader primarily he also swing trades from time to time.
He explains how he finds potential stocks to swing trade and determines whether to trade them or not.
At the end of the chapter, he gives three examples of swing trading. These examples are very helpful as after learning the theory behind swing trading you can then see three real-life examples.
The seventh chapter is dedicated to day trading. This is what Ricky mainly does, he buys a stock and then sells it on the same day he bought it.
Chapter 8 gives you an introduction to investing, chapter 9 to short-selling.
Chapter 10: ETF's
When I first signed up I was surprised to see a full chapter dedicated to ETF's.
I had not seen Ricky talk about ETF's before so I didn't expect them to be part of the course. Even though I made some research before getting the course I had no idea what ETFs were so I'll give you a short introduction.
ETF is short for Exchange Traded Fund. Essentially they're a pool of similar stocks that you can trade together.
Ricky starts out by going over the differences between trading stocks and ETF's and what traders should know before considering to trade them. He then explains how to scan for ETFs and what patterns you should look out for.
When trading ETF's there are different risks involved as when trading stocks, Ricky dedicated a whole video in this chapter explaining the risks when trading ETF's.
Chapter 11: Trading Strategies

In this chapter, he goes more in-depth on different trading strategies and theories.
All of those strategies are basic and nothing you wouldn't find on Youtube for free. However, you shouldn't expect to get exclusive or secret trading tips from Ricky when purchasing Learn Plan Profit 2.0.
What you get instead is a well-structured course which explains all basic ideas of trading on a beginner level.
This is what in my opinion makes Learn Plan Profit 2.0 so great. Most other trading courses skip all the basics and get straight to the advanced concepts of trading.
I took other, more advanced, trading courses before and I found myself better understanding the advanced trading concepts of the other trading courses after taking Learn Plan Profit as it taught me all basics of trading again.
Chapter 12: Risk Management
In chapter 12 Ricky gives you an introduction into Risk Management and explains the basic concepts of what to do to protect your account.
One example of it is Bull & Bear Patterns, meaning when the market is likely going to go up or down.
This is in my opinion where most beginners fail and blow up their accounts over time.
As a beginner, it is best to always go with the market meaning if your thinking about making a trade and it goes in the opposite direction of where the market is going you shouldn't do the trade.
Lessons like these may only be a few minutes long but will likely save you a lot of money in the long term.
The next videos are basic but helpful videos, like him explaining the basics of when to take profit and how to enter & exit a trade.
Bonus Chapter
At the end of the course Ricky included a bonus chapter with four bonus videos.
I especially found the "Locking In Profits" video helpful as I often times struggle to exit a trade at the right time.
Certificate:
Once you have watched all videos you get a certificate of graduation.
Course Quality
All in all, I can say that the course is well-produced.
The structure of the course makes sense and you won't find yourself having to do much research outside of the course as everything is explained thoroughly and in the correct order.
This is one of the biggest advantages of the course compared to his free YouTube videos, when watching his videos before purchasing the course I found myself jumping around between his videos.
Once you have purchased the course this won't be needed anymore as you start from the beginning and everything you need is explained in the correct order.
The course itself mostly consists of screen captures and Ricky Gutierrez talking over them. There aren't really any custom graphics but due to the nature of the course, this isn't needed to follow along.
The private chat room Ricky grants you access to is well-moderated making it easy to follow the calls inside.
My Personal Experience
Before first signing up for the course last year I must admit that I was critical of him as Ricky shows a lot of the common signs of a fake guru.
In his YouTube videos, he often showcases his supercars or his big house and tells people that he's a millionaire.
Also, I read online that his course is very basic, however as the course is pretty cheap compared to other trading courses I decided to sign-up to see what all this hype is about.
Once I was about halfway through the course I was pleasantly surprised by the quality and comprehensiveness of the course.
The fact that this course is basic compared to most other trading courses is what made it so good for me.
I had tried to get into trading for quite some time before purchasing the course, I watched a lot of YouTube videos and also purchased some other trading courses before.
However, most of the time, I had to research while watching the videos as I didn't understand everything. This made an unpleasant viewing and learning experience for me. When I started watching a trading video I had to pause it oftentimes to research a term, while researching this term I found another term I didn't know, and so on.
The truth is when you first start getting into trading there are a ton of new terms and concepts you have to learn to understand the stock market.
This course has helped me massively in this process as Ricky starts from the beginning.
After completing his course I felt much more confident in my trading abilities as a lot of my misconceptions were lifted.
Even though it is true that Ricky's course won't make you the next big deal in trading and is very much sticking to the basics I found it very helpful and would advise it to any beginner to medium-advanced trader.
Does Learn Plan Profit Deliver?
I always like to judge courses on claims made in the marketing materials.
Ricky claims that Learn Plan Profit is a "step by step A-Z video lesson library created to teach beginner traders how to day trade successfully".
First of all, I believe that any beginner trader needs to understand that no course will teach you how to trade successfully immediately.
Navigating the markets profitably takes a lot of knowledge and most importantly experience. When your first trade you will notice how much emotion is involved in the beginning and that it will take you some time to not panic.
However, the first part of his claim couldn't be more true, it really is a "step by step A-Z video lesson library". This was my biggest struggle when first starting out, I dug myself through tons of YouTube videos always going back and forth to research things I didn't understand. This is what makes this course so good in my opinion, it's a structured step-by-step video library that will cut your learning curve massively in the beginning.
While this course certainly won't make you a profitable trader on its own, it will help you understand the market much faster.
Who Is Learn Plan Profit Best For?
It's the perfect course for beginner traders. If you want to get into trading this is the way to go. Ricky explains the basic concepts in a structured way that will help you understand the market much faster. To see whether you like Ricky's way of trading and teaching I'd suggest you watch some of his free youtube videos and join his free Facebook group. At the beginning you might be a bit confused as he tends to talk quite fast but once you went through the first videos of the course and you better understand what he talks about it becomes much easier.
If you're an advanced trader I wouldn't advise you to get this course as it covers a lot of the basics you probably already know.
One alternative to Learn Plan Profit 2.0 is ZipTraderU. The course also focuses heavily on technical analysis.
Is Learn Plan Profit Worth The Money?
The short answer is: Yes! At $349, it's one of the cheapest trading courses on the market. It becomes an even better deal if you consider that you get access to his private trading group and his pre-market streams.
Most other traders charge a monthly fee just for this alone, often almost as high as Ricky's one-time fee. In general, you will find a lot of other trading courses to be priced at $1000 and above.
If you take Humbled Traders new trading Academy for example, it retails at a standard price of $1490, compare that to Ricky's $349 and his course almost seems cheap.
While these courses might go more in-depth on more advanced techniques they often lack beginner introductions giving beginner traders a hard time.
Learn Plan Profit Final Verdict
All in all the course is well worth it at $349 for all beginner traders. Ricky does a good job in explaining the basics of day trading beginner-friendly and giving actionable advice, enabling beginners to quickly take action. If you're a beginner with a small account this is a good starting point.
Pros:
As advertised in the marketing material this course really is a "step by step A-Z video lesson library". When you first start out as a beginner this course will cut your learning curve massively as it will enable you to learn trading in a structured way.
While $349 is still a lot of money for a digital product it comes in to be quite cheap compared to other trading courses. Especially if you consider that Ricky doesn't have any up-sells on the course and also grants you access to his private trading group, and pre-market streams.
When taking other trading online courses I often found it hard to take actionable advice out of them, Ricky makes it easy for you and explains how to get started best.
The video lessons are well-recorded and easy to follow making the learning experience positive.
Most courses only touch on one aspect of trading, instead, Ricky gives you a good introduction to a variety of trading methods such as day trading, swing trading and ETF's. For a course priced this cheaply, it's a very comprehensive course.
Cons:
Ricky very much sticks to the basics, so if you're more of an advanced trader this isn't the course for you.