In this article, I'll explain what you have to know before purchasing Passive Income Geek's Course and why I believe it is worth it in 2023.
Note: You can click here to get an overview of what's included in the course or read my full in-depth review of the course below.
At A Glance
Review: Passive Income Geek Course
All in all, I find the course to be well worth it at $399. Passive Income Geek walks you through everything you need to know to be successful. From choosing a niche, building the site, finding easy-to-rank topics, writing good articles, hiring writers, and scaling your blog, Morten explains it all.
Pros
Very actionable

Very active and helpful community

Lots of course updates
Cons
A little basic at some points

No link-building module
$399, 30-day full money-back guarantee
Get The Course
About the Passive Income Geek Course
The Passive Income Geek Course lays out a step-by-step process to build a full-time income with niche sites.
When you buy the course, you gain access to 10 modules (more than 18 hours of videos), access to a private community, and early access to ezoic and their site speed tool.
Is this course worth the money or are you better off watching Passive Income Geek's free videos on Youtube?
About Passive Income Geek (Morten Storgaard)
Morten Stoorgaard is a 40-year-old full-time blogger from Denmark.
He has a wife called Maria (who's featured in his videos from time to time) and has a son called Max.
He first gained popularity from his youtube channel called "PassiveIncomeGeek," where he openly speaks about his process of building niche sites.
His process to grow niche sites is quite unique. Instead of focusing on SEO and buying links, Morten focuses on answering the user's search query.
But is his course really different from his YouTube channel and worth the $299?
Passive Income Geek Course Pricing and Coupons
The Passive Income Geek Course can be purchased at a fee of $399. This gets you access to the course and the community for 1 year. Each additional year is an additional $99.
Morten Stoorgaard offers a 30-day full money-back guarantee should you not be satisfied with the quality of the course.
Currently, Passive Income Geek doesn't offer any discounts.
Morten commented this on whether he'll run discounts in the future:
"I have decided to not do discounts and instead set the price where I believe it should be for everyone."
Passive Income Geek Course Curriculum
The course consists of 3 parts, the main course, the "build with us" module, and the "advanced tactics" module.
In the following, I'll give you a short introduction to each of the 3 modules and tell you what I liked and didn't like.
Let's start with the main course.
The Main Course
The course consists of 9 modules that walk you through the process of building a niche site. Each module consists of multiple sub-topics.
Chapter 1: Choosing a Good Niche
Whenever I browse Reddit or other forums I often read comments like: "All niches are saturated" or "I can't find a niche".
If you're one of those people this chapter is for you.
Morten thoroughly explains how to find and choose a profitable niche.
He starts out by explaining what niches to stay away from and gives the reasoning behind it.
Then, he shows and explains how to assess a niche. He mainly does this by analyzing the earning potential the niche offers and by checking the competition.
To simplify this process Morten has created an excel sheet which you can download under the "Materials" section in the course.
He thoroughly explains how to use this sheet in the course, but I will give you a quick rundown of how it works. Basically, you'll score your niche ideas on a scale of 1-10 on a set of criteria. The niche with the highest total score should be the best niche.
Overall, I found this to be a good chapter. I personally didn't find it to be of too much value to me as I had a good understanding of how to pick a niche before getting the course already but this chapter definitely brings a lot of value to the table if you're struggling to pick a niche.
Chapter 2: Topic Research
This chapter features 11 videos and 8 text lessons. Morten starts out by explaining the basics of topic research, in the second part of the chapter he explains how to judge the strength of the competition and what to look out for, in part 3 he gives you 6 different techniques you can use to find low-competition keywords, part 4 features 4 videos, in which Morten goes over some important things to consider when doing keyword research.
This module alone was probably worth the full price of the course for me.
Topic research is probably the one thing that separates bloggers that make a living from blogging from the ones who make a fortune from blogging.
While I had a basic idea of how to pick topics to write about before, this chapter of the course has totally changed the way I look at keywords. Before I mainly used the KD of Ahrefs to determine the difficulty of a keyword, today I look at many more factors, and they seem to be working.
Chapter 3: Finding a Good Domain Name
Chapter 3 explains how to pick a good domain name.
Morten first gives you a few examples of his domain names, and what he believes are good domain names. He then shows you 4 tools you can use to help you pick a name.
I personally had never heard of any of these 4 tools before, and they are very helpful indeed, so I found this to be a great share. Morten also gives you an excel sheet to download that gives you more than 7000 words you can combine with a domain.
I tried using this sheet but ended up going with one of the 4 tools Morten shared as this was much easier to use.
Note: I actually have completed all lessons in this chapter but for some reason, they still show as uncompleted.
Chapter 4: Setting up Your Website
In Chapter 4 Morten explains how to set up your WordPress website. He shares everything from how to install WordPress on your hosting, how to connect your domain to Google Search Console, and how to build pages.
If you're struggling with setting up your website there are also more videos on this matter in the Build With Us module of the course.
Chapter 5: Writing Awesome Content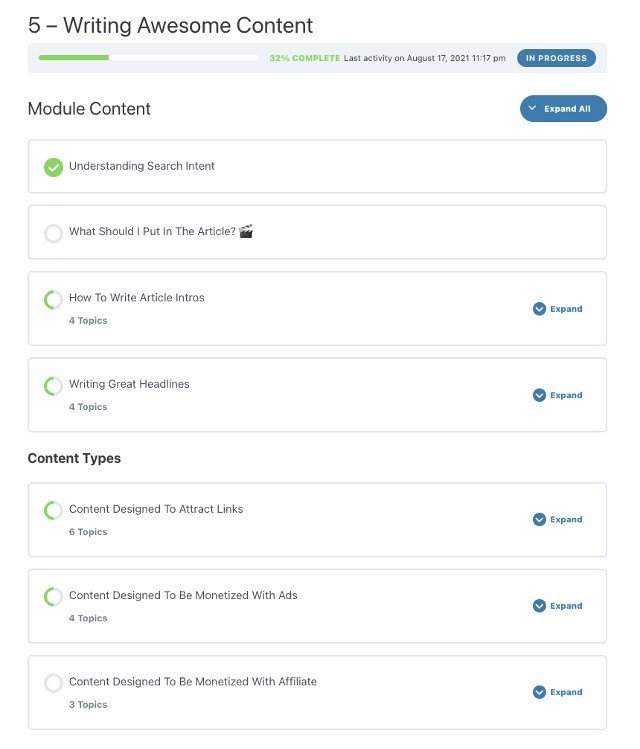 Chapter 5 features 15 videos, and 23 lessons in total.
Morten describes how he writes content and what style of writing you should use for different content types (affiliate, ads …).
I found this chapter to be particularly helpful as not only you can use this information to improve your own writing but you can also use this chapter as a guide for your content writers.
Once you start outsourcing your content you'll notice how difficult it often is to get your writers to write in a different writing style than what they're used to. It requires a lot of training and extensive writing guidelines. When I have put my writing guidelines together I used this chapter a lot as Morten explains what to look out for very well.
Chapter 6: SEO Tips
In chapter 6 Morten explains in 8 videos, and 15 lessons in total, his SEO tactics.
They're fairly basic and nothing you won't find on Youtube for free but are a good introduction to SEO.
I found the Featured Snippets lessons to be the most interesting and helpful, like Income School, Passive Income Geek optimizes most of his articles for a featured snippet.
There's also a video in which Morten describes why he doesn't use any SEO plugins like Yoast, or RankMath, anymore. You can find almost the same video on his Youtube channel as well.
Chapter 7: Monetization
Chapter 7 consists of 10 videos and 14 lessons in total.
Morten goes over different ways you can go to monetize your site.
This is a great chapter for all beginners, however, if you already have a good understanding of what impacts ad earnings, or what to consider when picking an affiliate partner, this chapter won't be very helpful to you.
Chapter 8: Social Media
Disclaimer: I don't use any social media platforms for any of my blogs so I'm far from being an expert in this matter, however, I did go through the 5 lessons.
This chapter is fairly short, it only features 5 lessons and only 1 video which is less than 2 minutes long.
Morten describes what social media platforms he uses, and what each platform is good for.
This is all very basic information, so if you're looking to step up your social media game for your blogs and are looking at this course to help you do so you will be disappointed.
Chapter 9: Outsourcing Content
Chapter 9 features 6 lessons, with 2 videos.
Morten describes how to outsource content, what to look out for, and where to hire content writers.
While this chapter is fairly short again, this was one of my favorite chapters, right after the Topic Research chapter, and the Writing Awesome Content chapter.
This chapter has helped me a lot when I started hiring my first content writers. There are so many things you have to consider when hiring, and Morten told me quite a few things I wouldn't have thought of otherwise.
The Build With Us Module
Last summer Morten added a bonus module called "Build with Us". In just over 15 hours of video material, he builds a niche site from the ground.
This module is probably my favorite. If you had any questions unanswered after the main course you'll likely find the answer here.
In 51 videos Morten builds a niche site from scratch.
You can look him over the shoulder when he chooses his niche and domain name, installs his WordPress theme, does topic research, writes his first articles, sets up google analytics & ezoic, and hires his writers.
In month 11 of the site being live it pulls in about 12k organic traffic, which is awesome to see.
If you were still not convinced after watching his course if his methods would really work for new sites in 2023 you should be proven otherwise after watching the build with us module.
The Advanced Tactics Module
The advanced tactics module is really only meant for people who already have a successful niche site.
"These tactics are intended for when you hit $1,000 or 50,000 pageviews per month, or if you intend to break into a competitive niche. Some methods are also placed here because they rely on a paid tool or service. You can take your site to five figures per month without these tactics (I've done so in the past!), but they can many times help you get there faster."
This module was added by Morten in late 2021.
As of February 2022, the module features 4 videos. All 4 videos are advanced topic research methods.
The methods are a great addition to the topic research module in the main course.
I'm sure he'll add a lot more videos to this module moving forward.
The Community
Once you purchase the community you get access to the Passive Income Geek Community. The community is hosted on Discourse, a popular forum software.
You can access the community through your browser, or through the Discourse Android or IOS App.
The community itself is very active, every day about 5 new topics get posted. You can get help and opinions from experts, and even Morten answers questions there often.
I find the community to be very valuable. I tend to visit the community almost on a daily basis, and over the last year, it has become my go-to place when I need answers to anything blogging-related.
Does the Passive Income Geek Course Deliver?
Yes, I find the course to be well worth it.
You not only get access to an online course but also to an exclusive, well-moderated community (not a shitty Facebook group!).
Morten really shows you everything and explains his process. You get access to many over-the-shoulder videos that allow you to follow his train of thought when doing niche and topic research. If you're really serious about starting your own blog it doesn't really get better than this.
My Personal Experience
I first noticed Passive Income Geek when he started popping up in my YouTube recommendations.
At that time I was pretty new to blogging. I was in the digital marketing world for a few years at that point but only started my own blog about 6 months before.
The blog already did pretty well at that point considering I only launched it 6 months before, and I started earning the first money from it. I've made money online before but it was never as "passive" as blogging.
I used to build websites for clients but this always meant a lot of back and forth. With my blog, I could literally be asleep and earn money from a post I published 5-months ago. This thought hooked me and I became obsessed with the idea of making a full-time income by blogging.
Back then I was looking at a few different blogging courses to buy. I ended up going with Morten's course as it was a little cheaper than Income School's course.
I went through the course in about 2 weeks and looking back at it I have to say that the course was worth every cent.
Even though I made some money through my blog before purchasing the course it has changed the way I blog completely. In fact, after going through the course I rewrote every article I published to that point completely.
I think I had a better understanding of how to make money on the internet because of my previous experience than most others starting out but looking back I still made so many small errors starting out.
Without the course, I'm not sure how long it would have taken me until I'd have realized that I made these mistakes.
The bad thing when starting a blog is that you really have to wait for about 8 months before being able to judge whether the blog is a success or not. This means that it will likely take you months before you release that you made an error and if you're a beginner and your blog fails you might not even release what you did wrong.
That's why I recommend every beginner blogger to buy a blogging course. It will make your life so much easier and drastically improve your chances of your first blog being a success.
I personally don't think that it will make a big difference if you get Morten's course or the Income School's course.
The key take-aways from the course for me were the topic research module, and the writing style Morten uses on his blogs.
Who Is the Passive Income Geek Course Best For?
It's best for beginner bloggers.
If you have just started a blog in the last year, or want to start a blog, the course is the perfect starting point for you.
You'll learn the best way to do topic research, learn how to write content people want to read, and how to set up your website correctly.
If you have taken other blogging courses, like Income School, before and are still struggling to make money blogging I wouldn't advise you to get this course, as its not a whole lot different than Income School. I believe that if you weren't able to make money using the methods of Income School you probably won't be able to make money with the methods of Morten either.
However, if you have taken Income School for example, and are already making money by blogging and want to learn more methods, I'd recommend that you get the Passive Income Geek course.
Morten teaches a few different methods than Income School and even if you can only take-away one or two things form the course it will likely be worth it for you in the long-run, considering the course is only $299.
I think the best module in the course is the Topic Research module.
If you're a beginner and are struggling to wrap your head around the concept of topic research this will be the best course for you.
While there are some great videos on YouTube on how to do topic research Morten really makes it easy for beginners to understand the concept behind it for beginners.
Is the Passive Income Geek Course Worth the Money?
Yes, in my opinion, it's worth the money.
If you compare the course to other blogging courses, like Income School, or FatStacksBlogs, you will find that it's the cheapest course available on the market from a reputable Blogger.
Income School sells their course for $449 and charges $249 for each additional year, so if you want to complete their 24-month long project it would run you $698.
If you compare that to the Passive Income Geek course, a 2 year-long membership would only cost you $398.
Income School definitely offers a lot more lessons, but if you're a beginner just starting out there's no way you'll get through all these lessons.
The Passive Income Geek course will probably take you about 40 hours to complete – 35 hours of video watchtime, 5 hours of reading time. This is a long time, if you combine that with the time it will take you to write your articles learning and blogging will take up almost all of your free time.
That's why I think that the Passive Income Geek Course might be better (and cheaper) for beginner bloggers as you can go through the course a lot quicker, compared to Income School.
Is the Passive Income Geek Course Really Different From His Free YouTube Videos?
Yes, the course is different from his Youtube videos. Morten shares a lot more details and goes more in-depth.
On his Youtube channel, he only shows GoDownSize as one of his sites from his portfolio. In the course, he shows 3 more domains, and even builds one site from scratch to 10k pageviews.
Another thing that is totally different from his free Youtube videos is that you get to ask Morten questions directly. While you do have the option to do that in the Youtube comment section you likely won't get a response, or just a very short one there. In the community, that comes with the course, Morten answers almost all questions detailed.
I do believe that if you're thinking about getting the course it's a good idea to watch some of his videos first to see if you can follow his train of thought easily and whether you like his style of teaching, as the videos in the course are similar in the style of teaching.
However, the content is a lot different from his Youtube channel, and even if you have watched every Youtube video of his you'll gain a lot from his course.
Here's My Passive Income Geek Course Review:
All in all, I find the course to be well worth it at $399. Passive Income Geek walks you through everything you need to know to be successful. From choosing a niche, building the site, finding easy-to-rank topics, writing good articles, hiring writers, and scaling your blog, Morten explains it all.
Note: You can click here to get an overview of what's included in the course or read my full in-depth review of the course above.
5 Things I Really Loved About the Course
In contrast to almost all other online courses I have taken before, this course isn't just videos. It's a mix of videos and text, which I found great. Some things are explained better through video, others through text. This way you can go through the course a lot quicker, and it's easier for you to find something when going back through to the course.
All things Morten teaches are tested and are proven to work. In the build with us module he builds a site from scratch and brought it to the 10k pageviews per month mark in less than a year using the techniques tought in the course, this proves that his methods work.
Morten lays out a clear process for you to follow. When starting a niche site it can be a bit overwhelming at times, the Passive Income Geek Course will help you focus on the right things at the right time.
There are no upsells with this course. It's the only product Morten sells and you will never feel pressured into buying another product from him.
Morten is very active in the community, and updates the course on a regular basis. You can be assured that you'll always learn the most up-to-date information. If you ever have any questions you can always reach out to Morten directly.
3 Things I Wish Would Be Improved
A little more material about SEO. While I understand that he shares the same approach as Income School (in terms of building no links) I think the course would profit if he would share a bit more information on how SEO, and specificially link building, works. I personally think that buying links can really be the difference of whether a niche site takes off or not. Don't get me wrong I don't think you need to buy links to build a successful blog but it can help you get there quicker and make you more money.
The Passive Income Geek course gives you access to Mortens Income Calculator. While it does work, I personally found that it provided me no value and would have rather have another lesson in the course than the calculator.
The monetization module could use some improvement in my opinion. It's pretty basic and doesn't offer any tips or tricks you wouldn't think of yourself.
FAQ:
What Sites Does Passive Income Geek Own?
Morten owns a portfolio of niche sites. On his Youtube channel he regularly shows GoDownSize as an example, this site recently got an evaluation of 1.34 Million Us Dollars. In his course, he shares 3 more of his niche sites. However, he does own some sites, of which he doesn't disclose the domain name, neither on his Youtube channel, or his course.
How Much Does Passive Income Geek Make?
With GoDownSize Morten makes about $25.000 per month. In total, I'd estimate that he makes anywhere from $75.000-$125.000 per month from his niche sites. His course retails for a standard price of $299, at this time about 400 students are enrolled in the course, which means that he made about $120.000 from his course.
How Much Is Passive Income Geek Worth?
There are no official numbers on his net worth available online. I'd estimate that his net worth is between $2 – $5 Million US Dollars. However, please keep in mind that this is only an estimate based on his monthly income (which also can only be estimated!).